Car Door Sill, Scuff Plate ,Decal Stickers
 Car Door Sill, Scuff Plate, Decal Stickers
MATERIAL - Made of high-density carbon fiber PVC, lightweight, non-slip, not easy fading, not easy to crack. When entering or leaving your vehicle, protect the interior doors, and avoid scratching or wearing.
CAR SILL PROTECTOR SET - Designed for 2 front doors sill 2 back door sill, take care of your car comprehensively. Suitable for the car door and car trunk. for most cars, pickups or SUVs Can be cut into any size you want.
SIMPLE AND PRACTICAL - The carbon fiber door sill surfaces are smooth and easy to clean. Whether it is dust or dirt, cleaning the surface with a brush slightly, it will become new immediately.
APPLICATION - This car door sill guard sticker is not only covered existing scratches and prevents your car from wear and tear, scratches paint scratches, but also can decorative protection effect.
EASY TO INSTALL - Wipe clean oil and dust on the target surface, then tear off the protective film of the strong adhesive tapes and stick it in the right position, finally smooth it seamlessly by hand.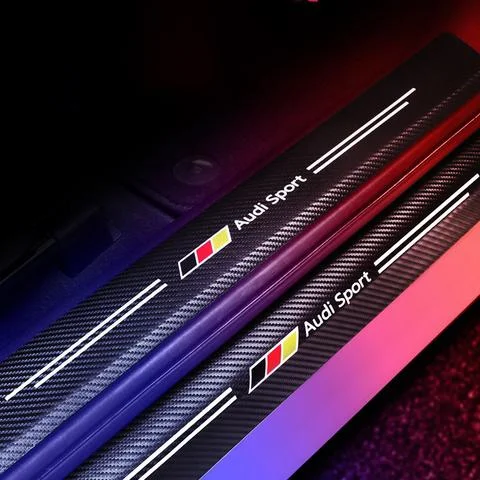 Feature:
Anti-scratch Door Sill Guards: Front and rear panel stickers can prevent a vehicle's door sill from scuffing, scratch, and fray. They will protect your vehicles from hurt and keep their surface paint perfect.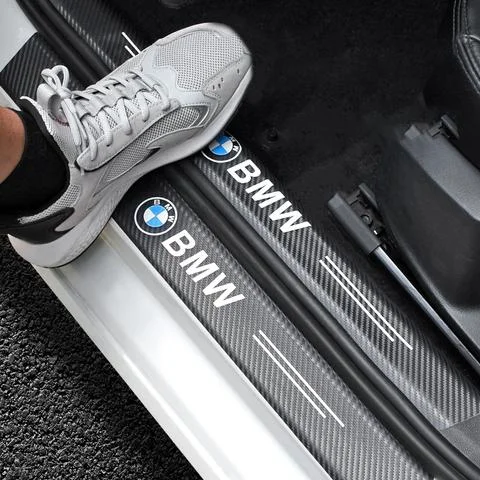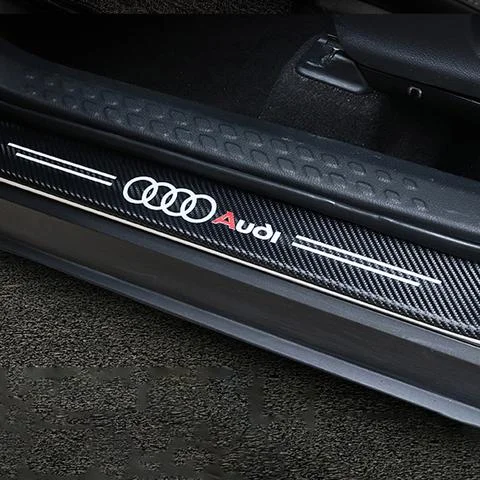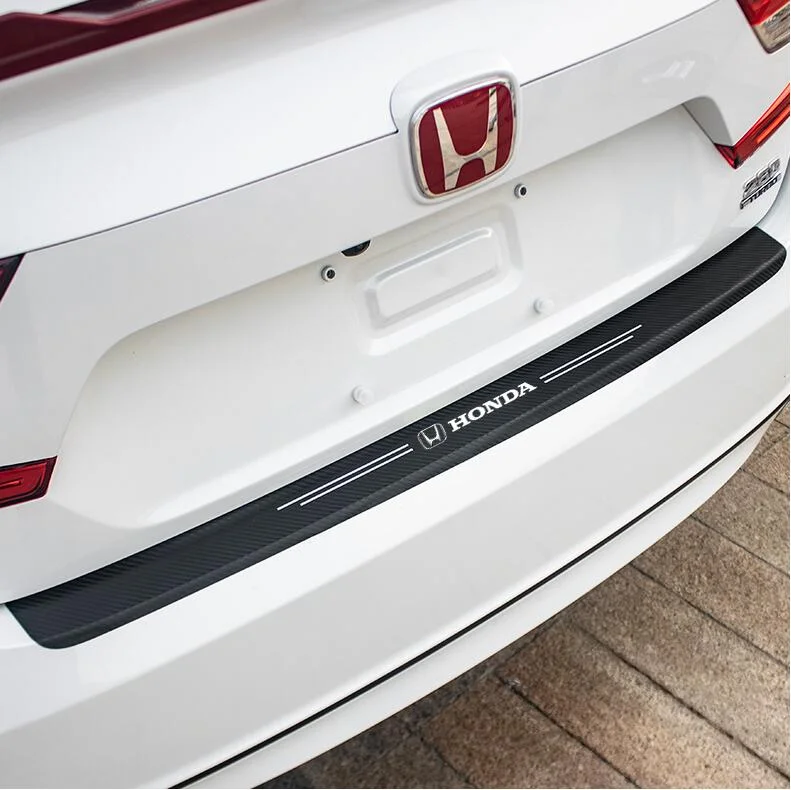 Universal Door Sill Protector Stickers: Protective stickers are fit for most vehicles in the market, such as cars, SUVs pickup trucks, and so on. You also can cut suitable lengths within its size to match your vehicle door sill. Not easy to fade and crack.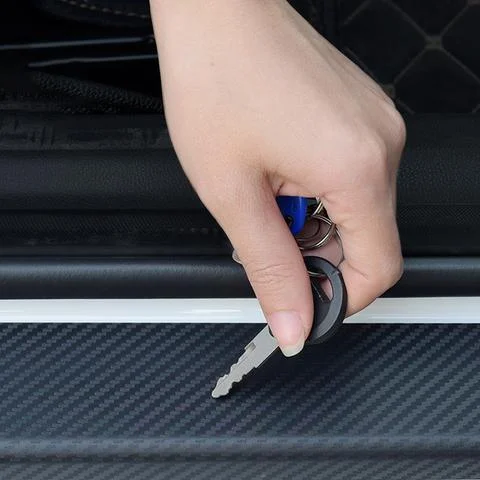 Strong Adhesive Carbon fiber Stickers: With strong adhesive at their back, it is so convenient to install. Besides, Strong adhesive supports them to hold on durably, they can work well even though on a rainy day, car wash, or hot weather.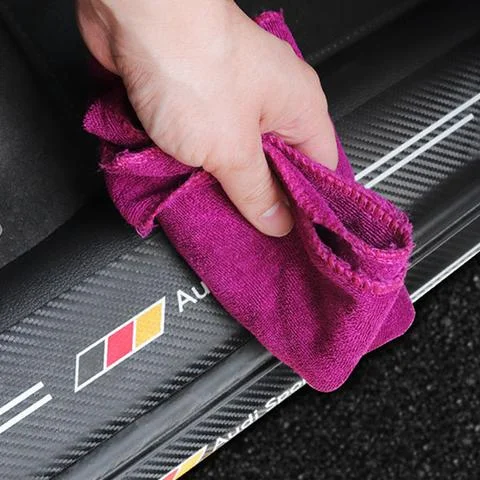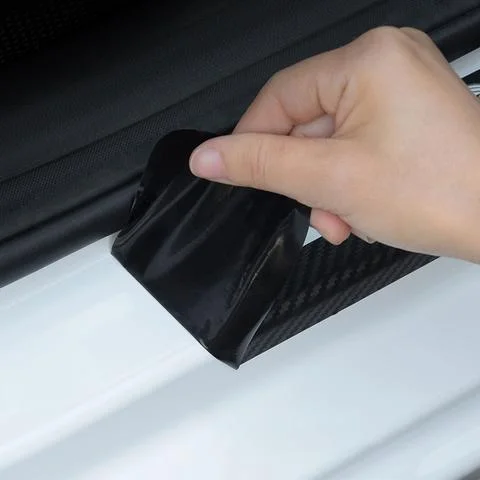 Flexible Scuff Protective Bumpers: Cover on other places of your car to protect them from scuff and scratch, like the side skirt, the bottom of the side door, front and rear bumpers, exterior mirror, and other parts.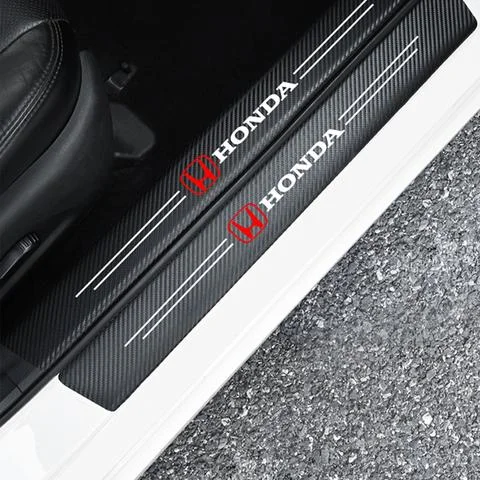 Package Content:
1 * Set (4 PCS) Door Sill Protector Reflective Sticker
Installation Steps:
Make sure which stickers you should cover in the current place before action.
Use water to clean the dust of four-door sill positions, and then wait for it dry.
Peel the protective film off at its back and stick.
Take a credit card or scraper to remove bubbles for better adhesive.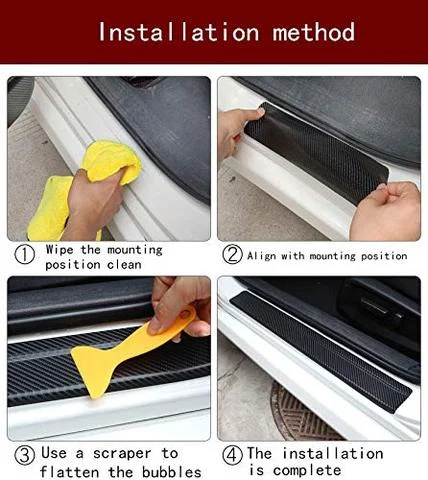 Installation tips
Clean surface of Installation position to ensure that it's clean and no oil, grease and wax, and so on.
Removing the tape protective film on the products.
Glue the threshold tape to the selected position, then press it down for 1-2 minutes.
Please do not clean your car within 24 hours to get the best bonding strength.
Package Includes:
4PCS Stickers Per Set 
 (2pcs front door dill cover,2pcs rear door dill cover)



Note:
when you installing a sticker you can sprinkle some water on the back of the sticker then you can move stickers freely to avoid them reaching the wrong position